Discover more from Run It Back
Research, reporting, and writing about neglected black history
Over 2,000 subscribers
The Story of Black Wall Street #011: Rebuilding Black Infrastructure
Thinking about systemic change, on a personal level
Welcome to the eleventh edition of Run It Back, my biweekly newsletter about neglected black history. For the foreseeable future the newsletter will be focused on Tulsa's Black Wall Street, which I'm currently writing a book about for Random House.
I'm running on fumes a bit here, which I know is not how I'm supposed to start a newsletter. Especially after I gained  more than 100 new subscribers in the last two weeks. To my new friends, welcome. To the old heads, thank you for continuing to click open. I usually do my best to polish these newsletters with a mix of narrative propulsion, intriguing characters, and important themes. I'm honestly too tired for all that right now, but you'll find me in my traditional literary mode in the New Yorker, the Oklahoma Eagle and (cross your fingers) Time magazine this week, discussing all that's currently going on in Tulsa. 
It's been an exhausting but clarifying time. I'm not here to talk about my pain--I've done that--or offer a lesson on our current racial moment--I've done that too. We've been on the same languid carousel of careful conversation about race for as long as I can remember. But now, the carousel has stopped. To be more specific, the carousel has been set on fire. Will we try to reassemble a hunk of smoldering metal, like we always do, or will we erect something new? 
I want something new, and I'm going to start with myself and my own actions. 
I'm donating 10% of the money I earn from now until I complete my book to causes or organizations that benefit the black community here in Tulsa. This commitment includes my book advance, the freelance pieces I mentioned up top, and any and all subsequent writing I do. 10% of the royalties from the book will also go towards causes, businesses or organizations benefiting black Tulsa in perpetuity. 
When I started on this project in late 2018, one of the first things people who live here told me was that I should give back to the community--not just by shining a light on injustice, or amplifying black voices, or giving away free copies of my book, but letting people who are here take part in the financial bounty I am personally receiving by writing about the massacre. This should be at the core of the racial paroxysm that has seized our country. The infrastructure of black life has been gutted over the past century, with black businesses, schools, and neighborhoods seeing dramatic disinvestment, even as black culture and history become ever more profitable. I straddle a curious line, working within white institutions but often feeling like I'm the only one in the room for whom this profound contradiction is acute. Since I have the money, it's incumbent upon me to be part of the solution. 
I chose 10% because my grandmother was a tither who gave her teacher's pension to the church every Sunday. If she could do that with far less than I have, while providing for far more children and grandchildren, there's no reason I can't as well. If my career continues to accrue me financial blessings I hope to increase the percentage I give in the future--which would go against the American tradition of giving away a smaller percentage of your income the wealthier you are.
Journalism (especially at the national media outlets where I earn my living) is ultimately an extractive profession, though we have done a great job of ennobling it in the popular consciousness. We need to have a tough conversation about systematic ways that local communities can benefit when a gaggle of national reporters descend on their town, clog their streets, and broadly report the same story in various formats for profit, as will happen in Tulsa when Donald Trump arrives in a week's time. If there is no way a local community can benefit, this model of reportage should be rethought.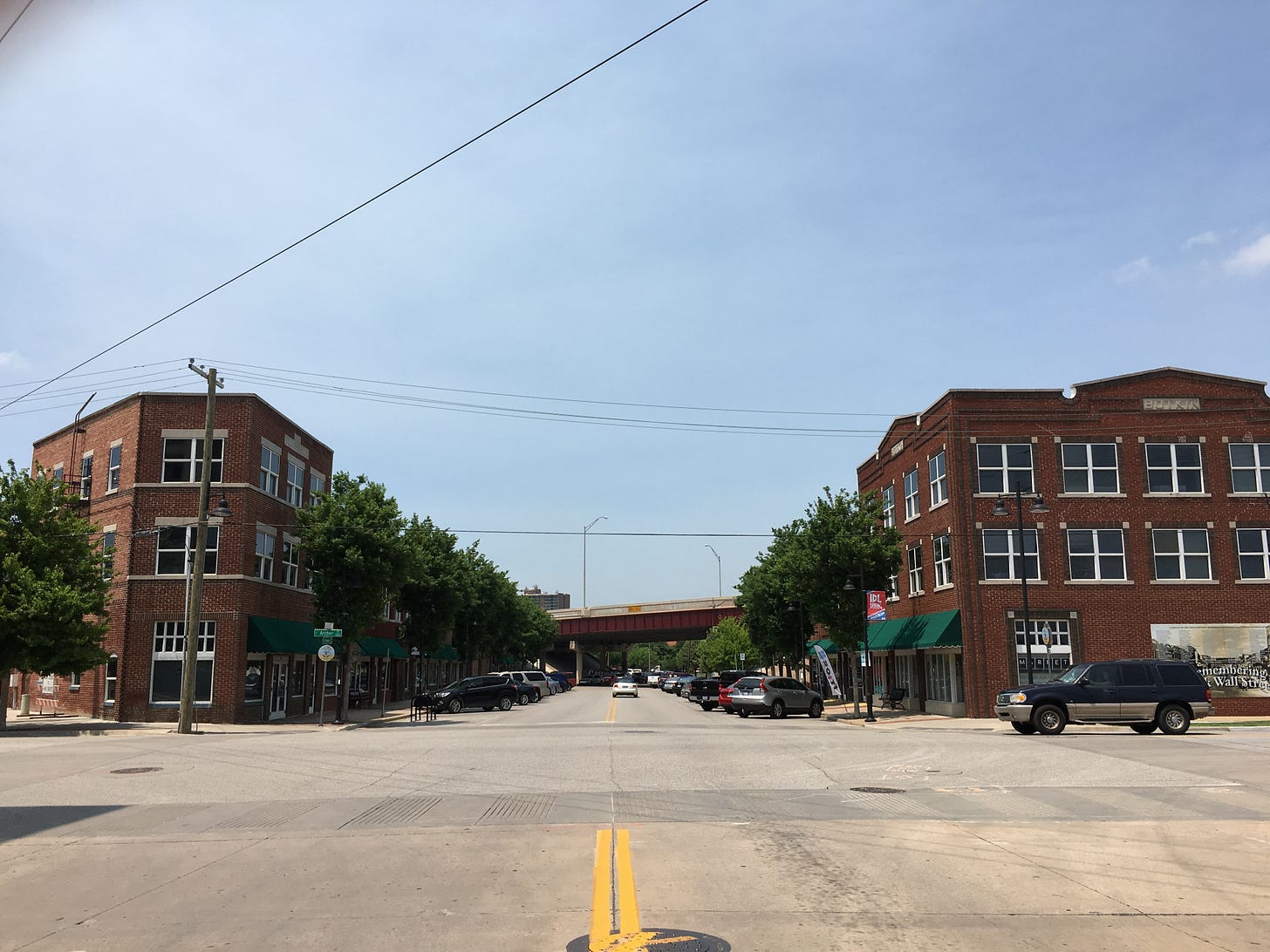 The scale of "Black Wall Street," with its heart at the corner Greenwood Avenue and Archer Street, has been vastly reduced from its heyday in the early 20th century.
I believe it is incumbent upon the media institutions that frame our national understanding of race and history to take this kind of commitment seriously as well. Before I sold Built From the Fire, I put the 10% pledge in my book proposal and asked the publishers I met with to make a similar commitment. Only Grove Atlantic, a small independent publisher compared to the industry's Big Five, agreed to do so.  Random House, the publisher I ultimately signed a deal with, has indicated they are open to finding a way to give back to Tulsa. I hope that indication of interest turns to decisive action as my book nears completion. 
Of course I am a first-time author trying to navigate an unfamiliar world without being blackballed or tainted as "difficult." But the last few weeks have revealed that actions have power that words, advocacy, and even voting do not. We decry institutional barriers as iron shackles that deprive us from building the world we actually want to live in. Perhaps those shackles are more like velvet bracelets, and the idea that we can't change institutions--and therefore are blameless for their faults--is its own sort of twisted comfort. 
A lot of people right now are thinking about how to make their own tiny corner of the universe more fair and equitable. That's a great thing. If the national spotlight on Tulsa has made you more curious how to give back, here are some organizations helping build black infrastructure in the city that you might consider sharing your bounty with: 
Greenwood Cultural Center - This facility, which was spearheaded by two Oklahoma black legislators in the 1990's, has been the keeper of Black Wall Street's history for decades. Employees here have collected the stories of massacre survivors and are on an ongoing journey to vet the rumors and speculation that continue to trickle in concerning exactly what happened in 1921. The space also regularly hosts community events, ranging from after-school programs to weddings to presidential campaign stops. 
Tulsa Dream Center - The Dream Center offers literacy programs for children, medical services for uninsured residents of Tulsa's predominantly black neighborhoods, and hot meals for people in need. The Center has been an important resource in the era of coronavirus and recently announced that it has handed out more than one million meals. 
Terence Crutcher Foundation - Named after a black Tulsa native who was killed by Tulsa police in 2016, the Foundation is a fierce advocate for criminal justice reform. It's also instrumental in community events like restoring a house for the last known living race massacre survivor. The Foundation also awards annual scholarships to students interested in the arts because music was a passion of Terence's. 
Oklahoma Eagle - The Eagle is the oldest black media outlet in Oklahoma and the longest-operating business in the heart of Black Wall Street. It was launched shortly after the massacre and has covered a century of American history, from World War II to the Civil Rights Movement to the ongoing fight for reparations for Greenwood. Currently the paper is in the midst of a donation drive as it seeks to expand its coverage of how COVID-19 is impacting the black community in Tulsa. 
Black Wall Street Times - With a more activist bent and a central role in community organizing, the Black Wall Street Times has emerged as an important venue for young black Tulsans to gain a platform to be heard. Editor Nehemiah Frank makes hiring black interns interested in journalism a priority. 
There are of course many, many more organizations in Tulsa doing valuable work, which I will highlight in future newsletters. I am still trying to figure out how to combine my national platform with impacts that are positive on the local level. A lifelong challenge, I suppose, but one I hope more people in my profession--and the new worlds I am entering of publishing, television, and film--will commit to. 
---
If you found this email informative or enlightening, feel free to share it on social media.
Also consider forwarding to a friend. If you are that friend, consider subscribing below. And if you you have comments, critiques, or tips that may help with my research, just reply directly to this email. I'll be back with more reporting from Tulsa in two weeks.